South African Photo Safari at Bona Ntaba
The Impossible Dream
It is probably fair to say that most photographers who shoot nature oriented images have  photo safari in Africa as a line item on their bucket list.  After a number of years looking at ads for African treks it seemed an impossible dream.  The typical prices for a couple to spend a few weeks in the heart of big game country are what I call "stupid" expensive.  It seemed to be a trip for the "money is no object" crowd.  Susie, my wife, had spent time in Africa as  a Peace Corps volunteer before we were married and she really wanted to go back.  She reminded me more than once,  "You promised!"
Then I found out that some friends in the local photo guild I belong to signed up for a tour with a focus on photography and the cost was reasonable. They directed me to Africa Wild Safaris, owned and operated by Greg and Karen Sweeney.  Greg is a professional photographer known for his underwater photography, but is just as prolific a shooter when his feet are on terra firma.  My first conversation with Greg last fall revealed that his home base was in Florida, and, as luck would have it, he was guiding a client for manatee observing at Crystal Springs in February.  When I mentioned that manatees held a special place in Susie's heart and we would be in Florida as well, he immediately invited us to join him.  I knew I was going to like this guy!
The Adventure Begins
Fast forward to May. Our group of five arrived in Johannesburg weary from sixteen hours of ocean crossing, but excited to be on South African soil. We were met by a friendly driver and spacious van to begin the overland drive to our final destination, Bona Ntaba Lodge.  It was a long drive, but the roads were excellent and we took the opportunity to take in the varied geography and views of daily life in the many small towns we passed through.  The last fifteen miles to the lodge were on progressively poorer gravel roads until we were down to a very rough single lane track threading through the bush.  By the time we were within shouting distance of the lodge we had already seen glimpses of giraffe, cape buffalo, and wart hogs.  This was going to be the real deal.
Our long journey now over, we were warmly greeted by Greg and Karen. It was a  short walk from the lodge to our 'tree house' accommodations.  While not exactly tree houses in the strictest literal sense, these little houses on stilts provide a fantastic view of the miles and miles of tree tops and the distant Drackenburg mountains.  A live tree was part of our lodge finishing off the interior decor. Very cool.
Armed and Dangerous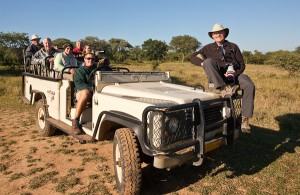 The next ten days became something of a routine….  up before first light, grab a cup of coffee, load up into a ruggedized Land Rover and head out to one of the many nearby preserves for a 'game drive'.  Since there were only five us, we each got a prime shooting spot in a truck designed to carry nine.  Perfect.  Sometimes the guide was instructed to focus on getting us close to rhino, lion, or whatever, but truth be told, the animals have minds of their own. Sometimes it felt like a game of hide and seek, but we always saw something.  It really didn't matter what popped into view; it was fun and challenging photography. You could hear the avalanche of bits rushing to memory cards with six cameras blazing!
Then it would be back late in the morning for breakfast with time to rest, download images, or read up on wildlife until mid afternoon when a new and different drive was arranged.  We visited Kruger National Park twice and those were all day excursions.  Kruger is the size of Colorado and has many thousands of elephant, giraffe, lion…. all of the "big five" and so many more.  We were never more than a few minutes between sightings of something.
Not All Work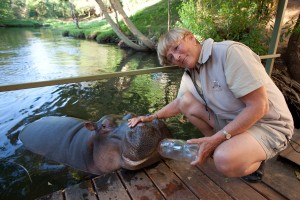 Some mornings we could sleep in until at least daylight and have a hearty breakfast before we would go do or see something within reasonable driving distance.  A visit with the hippo media star, Jessica, was great fun one afternoon. Hard to believe that hippos are allegedly responsible for the most human fatalities of all animal attacks in Africa.
On another we had some fun and excitement experiencing Africa's longest zip line, Skyway Trails.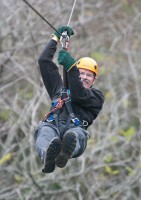 No matter what we were doing or seeing there were plenty of images to capture!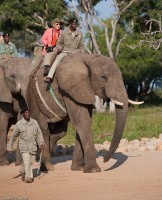 Tshukudu Game Lodge
Our tour concluded with a two night stay at Tshukudu Game Lodge, about an hours drive from Bona Ntaba and located in the center of a 12,000 acre preserve.  With a large friendly staff and beautiful facilities,  this well established family business provided an assigned expert guide for our group.  The food was good and perhaps too plentiful!  One of the highlights of the Tshukudu experience was the presence of three grown cheetahs, raised from cubs at the lodge. They roamed about freely posing for annoying photographers and occasionally playing with the dogs.  "Nice Kitty!"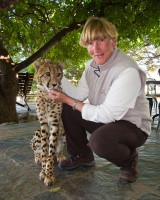 In the evening dinner scraps brought out enormous porcupines and a bush pig for our photographic dessert.  The bush pig would roll over and let you scratch its tummy.  No thanks…  this thing had a face that only a mother could love!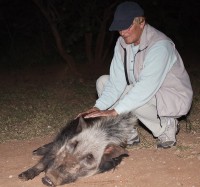 Back in the bush away from the lodge, a large fenced in area held a mating pair of leopards.  These are endangered and the breeding program they are funding will help prevent their demise.  For us… unparalleled shooting!  The big cats were going to be fed and they weren't the least bit camera shy.  These big cats (180 lbs) can easily drag twice their weight far up into the tree branches to eat undisturbed!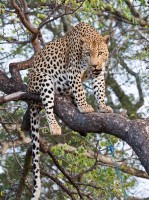 All Good Things Come to an End
The drive back to the airport seemed longer, and the flight back was definitely longer.  Traveling is really an ordeal, but a necessary sacrifice if you want to experience the world.
I came back with 5500 images and a case of African Tick Fever!  "Bugger!" Thank God for good doctors and antibiotics!  As for the images, thank God for Adobe LightRoom.  I distilled them down to fifty-five or so and you can see them here…
South Africa Photo Safari 2010
Thanks to Greg Sweeney for the first four photos!